信赖电源独显王700 游戏玩家必备电源
Game players know that the current large-scale game installation packages are more than a few gigabytes, which are very resource-intensive to run, and the hardware configuration is very high. The power of the independent graphics card configured by a mainstream game computer can reach 120W, so the game computer needs to be equipped with a high power Computer power supply. Low-power and unstable power supplies are easy to burn out the motherboard of the mainframe. According to Meiji, some Internet cafe owners bought low-quality computer power supplies in order to save a few dollars. Unexpectedly, the computer caught fire and burned the entire computer to a black frame.
Here is a high-quality Meiji power supply-Trust Power Duxianwang 700. This power supply was newly launched in 2014 with a power of up to 700W, which can meet the computer configuration needs of professional gamers. Reliable Power Done Display King 700 can connect 4 SATA hard disks, 2 IDE hard disks, has 6P+ (6+2) dual independent graphics power supply interface, can be connected to dual graphics cards; active PFC, dual-tube forward + synchronous rectification architecture, high efficiency 85%, high efficiency and energy saving IC, saving 1 kWh in three days, it can be seen that this trusted power supply is not only powerful, but also 15% energy-saving than ordinary power supplies. The wide design of 90V-260V can meet the ultra-low voltage startup in some areas and ensure the normal use of the computer. Top SMT production technology, intelligent temperature control design, almost zero noise, so when using this high-power power supply, the noise is very small, so small that you can hardly hear any sound. The cable of this trusted power supply is very long, supports backplane wiring, and is very flexible and convenient to use. This trusted power supply adopts intelligent temperature control and top SMT production technology, which is superior to other computer power supply manufacturers.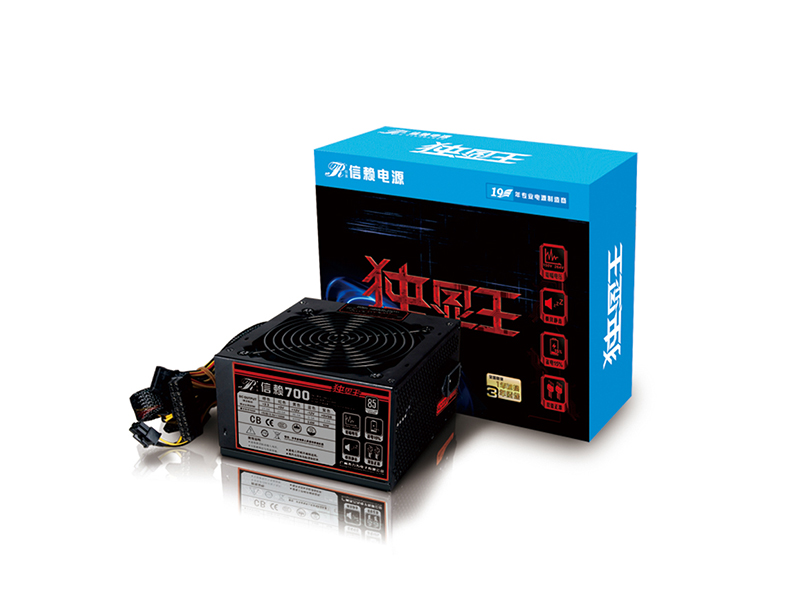 Reliance on the power supply Duxianwang 700, a must-have power supply for gamers
This Meiji Trusted Power Supply Donexian King 700 power supply currently comes with a color box, which is equipped with a power supply and a power cord, which is very high-end.
According to statistics from Megi, this trusted power supply has a zero repair rate since its launch in 2014. It is very good and outstanding, and it is definitely the first choice for gamers.